knowledge

| 11 February 2022

|
Irish Merger Control 2021 – Your 3-Minute Update
2021 in 4 Bullets
1. By the Numbers
357 – How many calendar days an average Phase 2 review now takes, 40% longer than in 2018/2019 (but COVID may be a factor).
117 – How many calendar days a typical extended Phase 1 takes. 13 Phase 1's involved extended scrutiny, inclusive of 3 Phase 2's, up 30% from 2020.
98% – The year-on-year increase in filings.
50% – The increase in size of the Mergers Division by staff numbers!
21/2 – How many weeks a fast-track "simplified" clearance took (35 of 81 filings).
Number of Deals Notified 2003-2021:

2. New Leadership, Same "Consumer Welfare" Values
The most consequential leadership change in almost 10 years won't, in our view, significantly alter CCPC enforcement values. Two new CCPC board members (of 4 in total) recently appointed, include a new Chair and appointment to the board of the agency's General Counsel. New Chair, Jeremy Godfrey, has 30 years' experience in public service, and in the telecommunications and IT sector, including as Chair of ComReg.
3. Regulatory Uncertainty & Cost Increases
A first in 2021 was outright CCPC refusal to accept a filing, apparently on incompleteness grounds, heralding potential significant change to established pre-notification practices. 2021 also saw tightening CCPC control over responses to information requests (RFIs), with Mergers Division staff asserting an incomplete RFI invalidates a filing retrospectively. RFI response times increased accordingly – from an average of 60.2 calendar days in 2020 to 77.5 in 2021. Ever greater cost for deals with material overlap continues: bulk email e-discovery and lengthy RFI's are now a norm in complex deals.
Timeframes: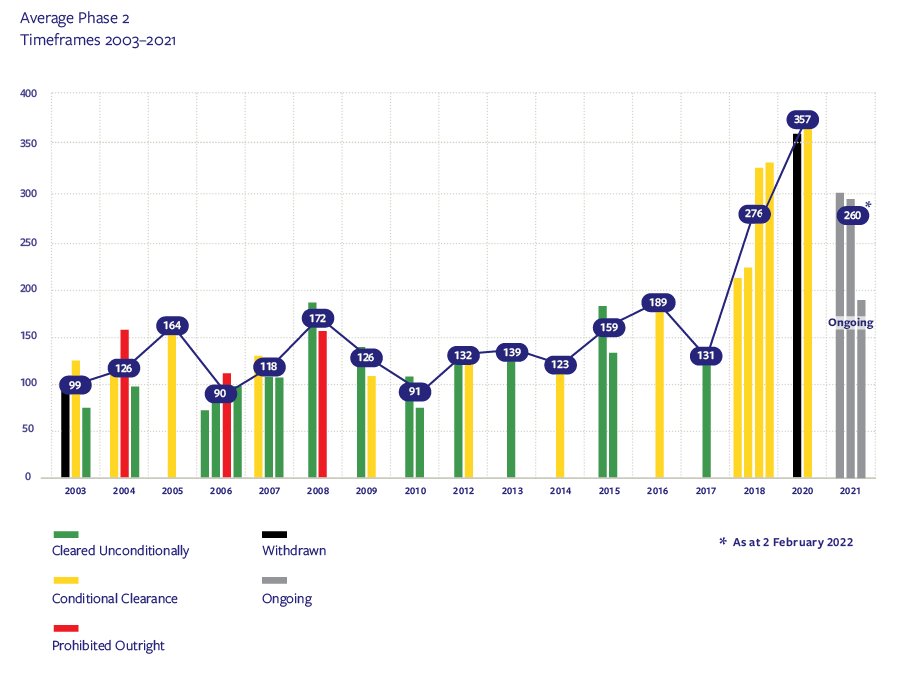 Decision Types 2003-2021:

4. Non-Competes, Non-Solicitations on CCPC's Radar
The CCPC increasingly scrutinised non-competes, non-solicitations and similar clauses. The CCPC refused safe harbour treatment where: (i) the geographic scope is too broad; (ii) a non-solicitation includes all employees of the target; (iii) the restriction is not appropriately time-limited; and (iv) so-called non-disparagement clauses were included.
Things to Watch in 2022
1. Focus on the Counterfactual
Significant retrenchment of Ireland's banking markets following both Ulster Bank/NatWest's and KBC's exit, citing profitability challenges among other things, resulted in a number of important filings to the CCPC. Critical to the CCPC's assessment will be its view on the counterfactual. The CCPC is yet to confront a major Big Data deal, although it was one of a number of agencies to refer Meta (formerly Facebook) / Kustomer to the European Commission.
2. Important Reforms on the Way!
New merger control and FDI rules will likely further increase regulatory uncertainty. Likely to be adopted by mid- to late-2022, proposed reforms will give the CCPC self-executing power to: (i) unwind non-notifiable deals; (ii) force third-parties to provide information; and (iii) injunct deals. A new foreign investment screening regime will likely involve a file-and-wait system modelled on the merger regime but likely with significantly less transparency.
Key Investigations 2003-2021: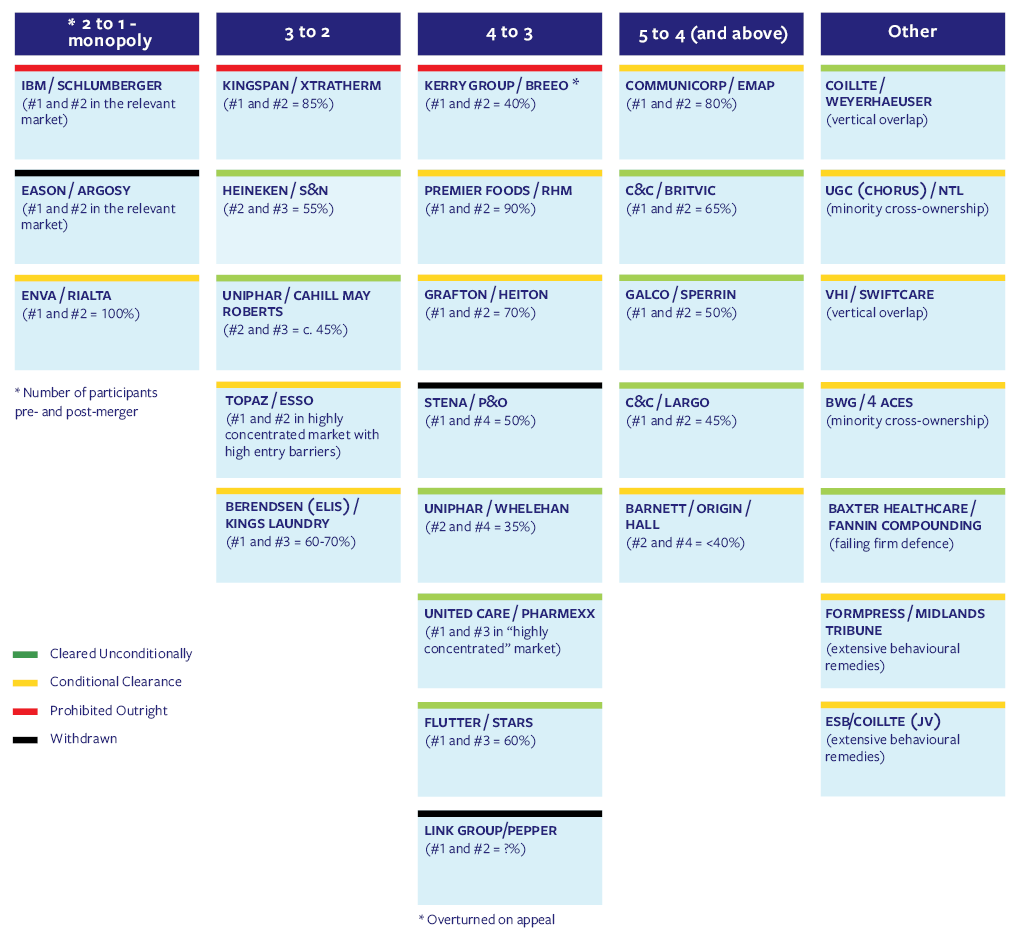 This document has been prepared by McCann FitzGerald LLP for general guidance only and should not be regarded as a substitute for professional advice. Such advice should always be taken before acting on any of the matters discussed.