28 May 2020
Micheál Martin TD Calls For Greater Investment In Technology To Help The Country On The Road To Economic Recovery
Micheál Martin TD, Leader of Fianna Fáil, joined a webinar hosted by McCann FitzGerald this morning. In conversation with Barry Devereux, Managing Partner of McCann FitzGerald, Deputy Martin outlined his views on the future of the Irish economy, the lessons learned from the current health crisis and how businesses will adjust to the 'new normal'.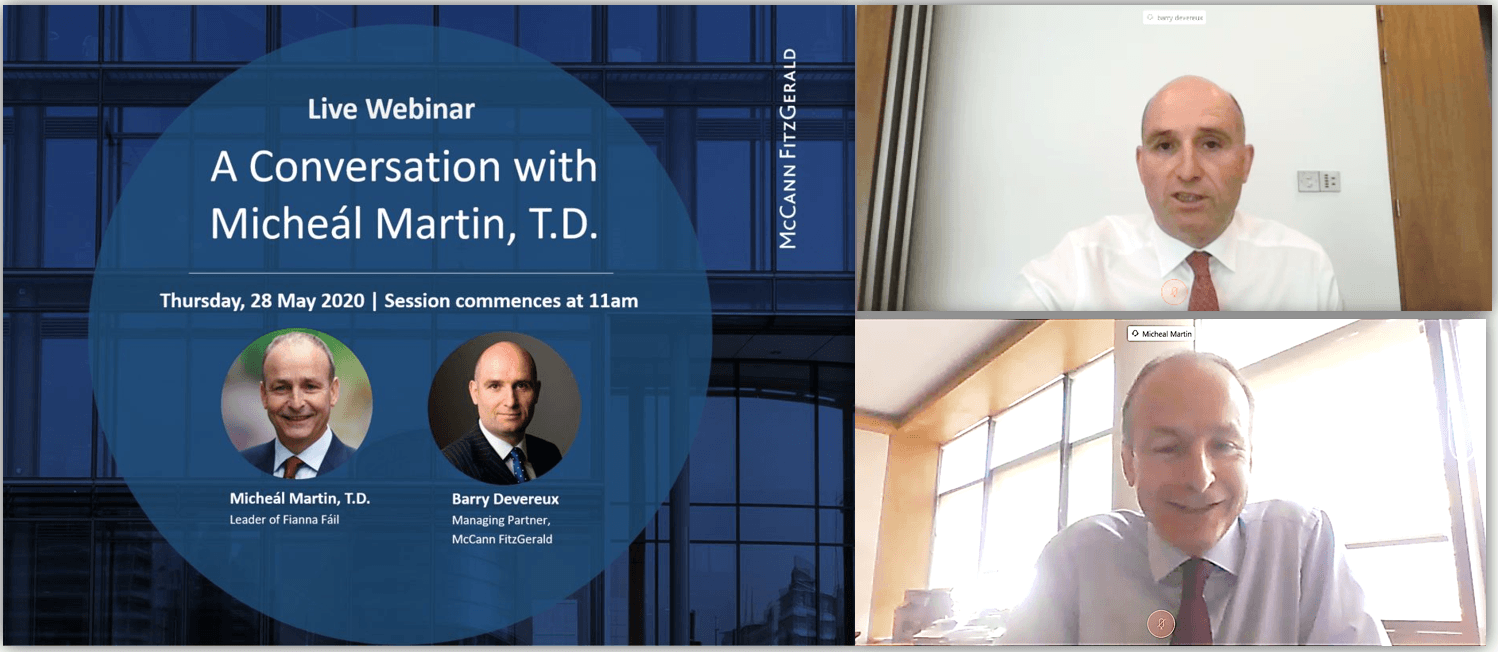 Noting that the first task of the next government will be economic recovery, Deputy Martin stated that targeted stimulus investment in areas that would modernise the Irish economy must be a priority.
A number of sectors of the economy will need greater attention after the crisis. Deputy Martin reiterated the important role that SMEs have played throughout this crisis, many of which have been crucial in supporting the economy and communities and will now need to be supported in turn. Similarly, there is concern about the future of the hospitality and tourism sectors. Deputy Martin said that: "We need to get a clear sense of direction economically in terms of the decisions regarding travel and quarantine. The tourism industry needs sharper attention on how it can reopen but also remain profitable in a post-COVID world".
Lessons have already been learned from COVID-19, particularly in the case of health which adapted and changed quickly to confront the pandemic. Deputy Martin outlined that health is behind in terms of technology and this is an area that will have to be addressed by the next government. However, he noted how progress is already being made in this regard, mentioning how technology has transformed the interactions between GPs and their patients during this crisis.
Following continued investment in health, Deputy Martin reiterated the importance of this happening in education, with a particular focus on third-level education: "Third-level institutions had to move fast to finish exams online, and now when we look to the autumn, there is going to be a need to stream lectures online. Specific solutions will have to be found for laboratory-based courses where a smarter technology is required".
While accepting that Europe was initially slow in putting together a coordinated health response and travel response in the initial days of the coronavirus, Deputy Martin praised the ECB for moving quickly to address the economic shock of coronavirus as a European wide problem, supporting countries that are deepest in trouble. This demonstrates the progress made on the European project as a whole, Deputy Martin suggested, observing that: "Italy took everyone by surprise initially, and while it took time to formulate a synchronised approach, I think what's happening now in Europe shows that lessons have been learned from the financial crisis and there is a genuine effort being made to support countries that are in trouble through no real fault of their own".
On the ongoing government formation talks, Deputy Martin praised the determination of the leaders and negotiating teams from both Fine Gael and the Green Party. "We have gone through all issues in great detail during these talks and in examining what a potential Programme for Government could look like. Taking time now is a positive thing, meaning that any government that is formed will be durable and lasting. That is what we need right now, a government that is in it for the long run to successfully lead economic recovery out of this current crisis".
Noting that one key business learning from COVID-19 is the ability of many organisations to operate as normal with employees working remotely, Managing Partner Barry Devereux said: "There might be an opportunity for the nation to rethink how we work and live, particularly in the context of city living. Both McCann FitzGerald as an organisation and our clients are reporting the efficiency of remote working, and perhaps we will see a lasting impact in people no longer feeling the need to migrate to cities, and, instead, seeing shared service centres in satellite towns throughout the country". Deputy Martin agreed that there is an opportunity to change the economic model in certain parts of the country, particularly in the context of the 'Just Transition' in creating new enterprises in the midlands.
While the conversation has reduced, Brexit has not gone away, and Deputy Martin expressed his concern about the additional complexity that Brexit will add to the global economic recovery post-coronavirus. He called on the British Government to take this opportunity to pause Brexit and give precedence to the health and economic recovery from COVID-19: "We need to work very hard to ensure that a sensible trade deal emerges. That is possible but time is running out and we must all focus on recovering from the impacts of coronavirus on our global society before returning to the complex task of negotiating a Brexit trade deal".
Watch the full interview here.