New Registration Requirements for Non Regulated Financial Institutions
Certain non regulated financial institutions ("Firms") must now register with the Central Bank of Ireland ("Central Bank") for anti-money laundering purposes. The new requirement is set out in Section 108A of the Criminal Justice (Money Laundering and Terrorist Financing) Act 2010, as amended (the "2010 Act").
Which financial institutions need to register?
The registration requirement applies, for the most part, to Firms that fall within the definition of a "financial institution" set out in the 2010 Act and that are not otherwise authorised or licensed by, or registered with, the Central Bank. Generally, it affects Firms that carry on the activities listed at points 2 – 12, 14 and 15 of Schedule 2 of the 2010 Act (see table below), when acting in Ireland in the course of business carried on by the Firm in Ireland, subject to certain exemptions.
What does registration involve?
Inscope Firms must complete the "Schedule 2 Registration Form". There are four sections to the form, some of which are divided into subsections. Broadly, an inscope Firm must provide its contact details as well as the following information:
Applicant Details – this includes: the Firm's legal status; the details of its Schedule 2 business activities; the specific activities the Firm undertakes in order to classify itself as a Schedule 2 Firm; details of the Firm's customers, staff, and the distribution channels it uses in relation to the Firm's Schedule 2 activities; and the financial details for its Schedule 2 activities;
Group Undertakings – this includes information as to whether the Firm is a member of a Group, and if so the group structure;
Reporting to the Central Bank – this section is only relevant to Special Purpose Entities ("SPEs") and includes information as to: whether the Firm is an SPE, and if so whether it engages predominantly in securitisations; the application of Section 110 of the Taxes Consolidation Act 1997; and whether the Firm is required to report certain statistical information to the Central Bank under Section 18 of the Central Bank Act 1971.
The firm must email its completed registration form to the Central Bank at the following address: Schedule2@centralbank.ie. It must also inform the Central Bank of any changes to the information provided in the registration form.
The Central Bank has published Guidance for Completion of the Schedule 2 Anti-Money Laundering Registration Form which is available on its website, together with the Schedule 2 Registration Form (here).
What happens if you don't register?
Failure to register is a criminal offence which may be prosecuted summarily or on indictment.
What are Schedule 2 activities?
The table below sets out the activities listed under Schedule 2 of the 2010 Act.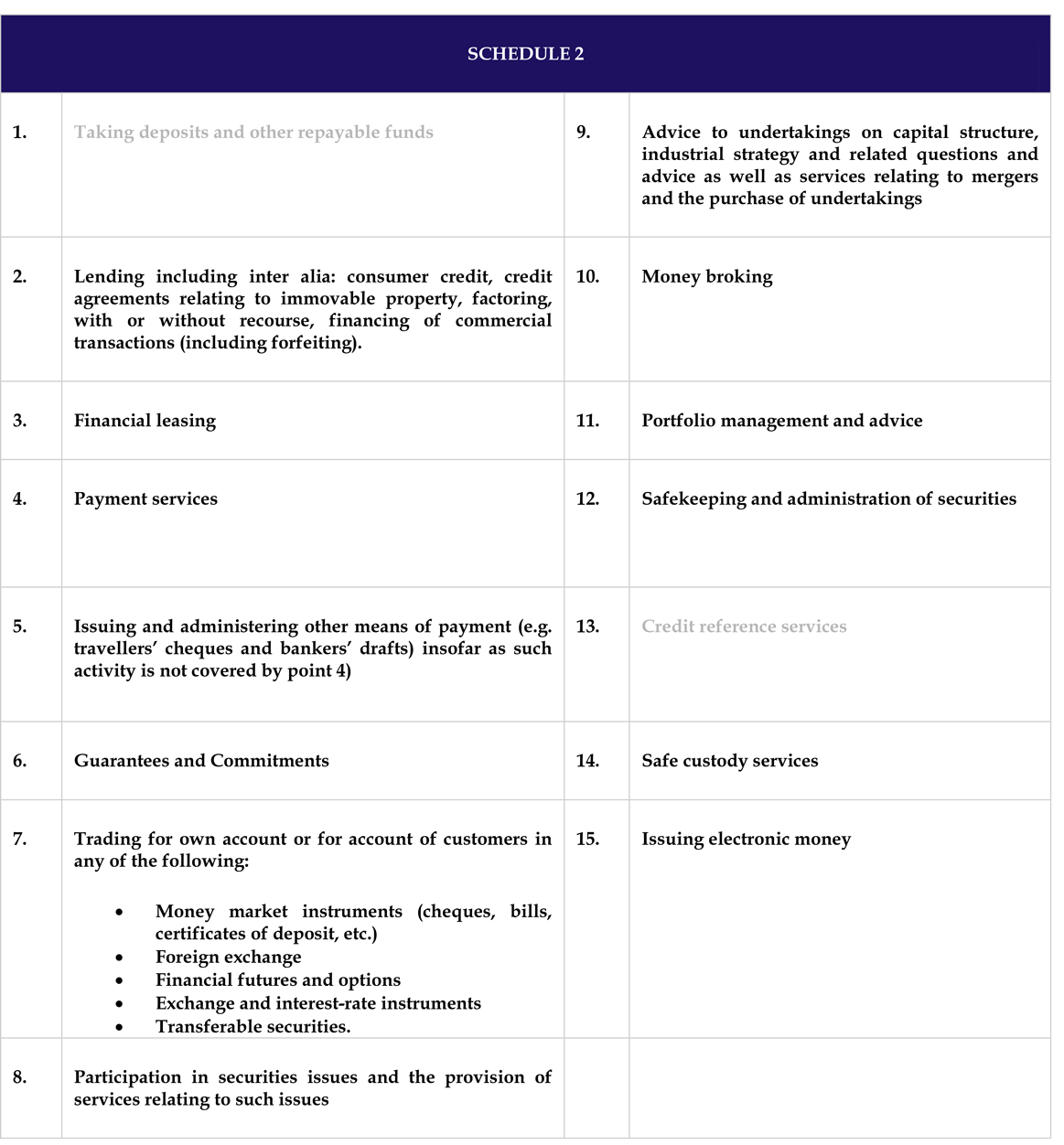 This document has been prepared by McCann FitzGerald LLP for general guidance only and should not be regarded as a substitute for professional advice. Such advice should always be taken before acting on any of the matters discussed.