16 March 2018
McCann FitzGerald wins Law Firm of the Year at The Lawyer European Awards 2018
The Lawyer European Awards 2018 has named McCann FitzGerald the Irish Law Firm of the Year at a prestigious ceremony held in London, last night.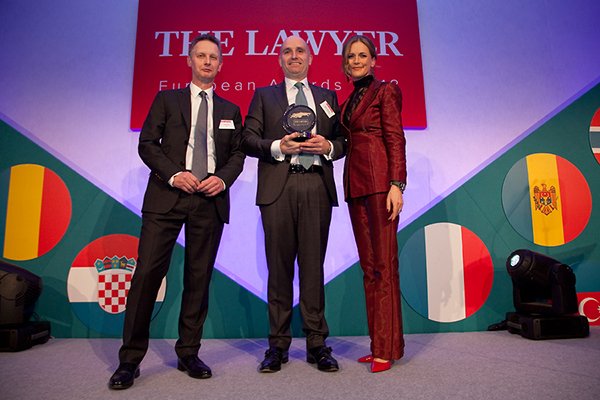 The firm was praised for its excellence of legal services delivery, strategic vision, strong performance and outstanding management of talent. The judging panel commended the firm for its considerable focus on technology-led innovations, such as the launch of the Data Investigations Group ("DIG"), a pioneering model for the management of high-volume document review and reporting and the first-of-its-kind in Ireland, as well as the deployment of artificial intelligence and machine learning technologies, such as Neota Logic and Kira. These technologies have enabled the firm to develop new digital, cost-effective solutions for clients.
Speaking on the award win, Barry Devereux, Managing Partner of McCann FitzGerald said;
"This is a fantastic achievement for the firm. Having previously won this award in 2016, it is a great honour and reflects the tremendous work and dedication of all at McCann FitzGerald and the clients who entrust us with their most significant business transactions, critical disputes and challenging legal issues.
"The market for legal services in Ireland continues to change apace, offering opportunities to those firms that take advantage of this new landscape in the delivery of legal services. This year we have continued to invest in technology and innovation, embarking on partnerships with cutting-edge providers of AI technology, including Neota Logic and Kira. This has led us to new areas of work and allowed us to offer clients new, cost-effective services.
"The strategic investments we have made in our people has also led to greater opportunities. With such a competitive landscape for talent, we want to ensure a collegiate, supportive and dynamic environment for our employees, one in which they can progress their career ambitions."
The annual European Lawyer Awards are organised by leading legal publication, The Lawyer. Held in London, the awards see 300 of the industry's leading global law firm joining together to celebrate the brightest and the best in the legal industry with award winners chosen by an expert judging panel.