30 May 2023
McCann FitzGerald LLP hosted In-House Counsel conference for 300 attendees in Dublin
McCann FitzGerald LLP hosted its 2023 In-House Counsel Conference on Thursday in Dublin's Marker Hotel, with 300 guests hearing a series of discussions focused on Legal Practice in an Evolving Environment.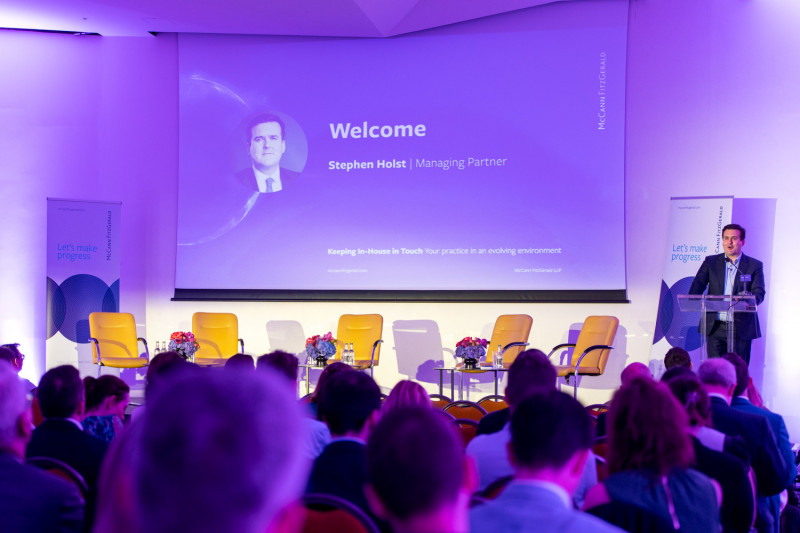 Pictured: Stephen Holst, Managing Partner, McCann FitzGerald LLP addresses guests at the 2023 In-House Counsel Conference in Dublin.
The half-day event was designed to address the key challenges and concerns that in-house counsel face in today's dynamic business environment, including understanding and responding to AI and other emerging technologies, ESG pressure on procurement and supply chains, and the evolving expectations of the role of in-house counsel.
The keynote address was delivered by Chris Kutarna, TED speaker and international best-selling author of Age of Discovery. Chris shared insights on the idea that we are entering a New Renaissance, with a pace of change in how we live and work evolving at a rate not seen in 500 years.
Guests also heard perspectives from a number of legal, technology, ESG, marketing, procurement and corporate governance experts including Kieran McCorry, Microsoft Ireland; Prag Sharma, Citigroup's Artificial Intelligence Centre of Excellence; Sunday Independent and Irish Independent journalist, Adrian Weckler; John Devereaux, John Sisk & Son (Holdings) Ltd; Aisling Gorman, Baileys; Dr. John MacNamara, Bord na Móna plc; Aoife Barry, Alexion AstraZeneca; Helen Dooley, Allied Irish Banks plc; Mari Hurley, The AA (Ireland) and Rory Williams, Ronan Group Real Estate.
Addressing guests in his opening remarks, Stephen Holst, Managing Partner, McCann FitzGerald LLP said: "The pace of change happening all around us is truly remarkable and the legal profession is not immune to this. As legal professionals, response to change is a hallmark of our ability and the challenges and opportunities that generative AI presents will be the test of the best lawyers in continuing to support clients and those who rely on our expertise. The perspectives shared here allow us to be more informed so we can adjust to today's dynamic business environment and face the future with greater confidence."